TIM / Products / Stockings / Silicone Stay Ups
Garter Stockings for suspenders, Garters, Suspenders Stockings
Stripe 20 Den Garters - Stockings for Garters - Suspender Stockings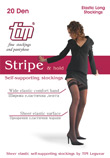 Fiber Content:
85% nylon - polyamide 6.6
15% spandex - elastan
The Stripe garter stockings are the new retro article that has become a fashion article until recently. These Suspension Garter Stockings are made of elastic spandex and fine poliamide for comfort and style.
The Stripe stockings can be work with or without the suspension garters because of the elastic band.
Available Colors:

Styles:

Vanilla
Aroma

Envelope
package

Natural

White

Beige

Light gray

Camel

Graphite

Tropic

Black

Vison

Cafe

+ Season Fashion Colors:

Reseda

Champagne

Dark Green

Orange

Light Blue

Pink

Blue

Red

+ more added constantly..

Reinforced toe for more protection

Garter stockings with elastic band. Wear them with or without garters
Sizes: 1-2, 3-4
Click here for size chart.